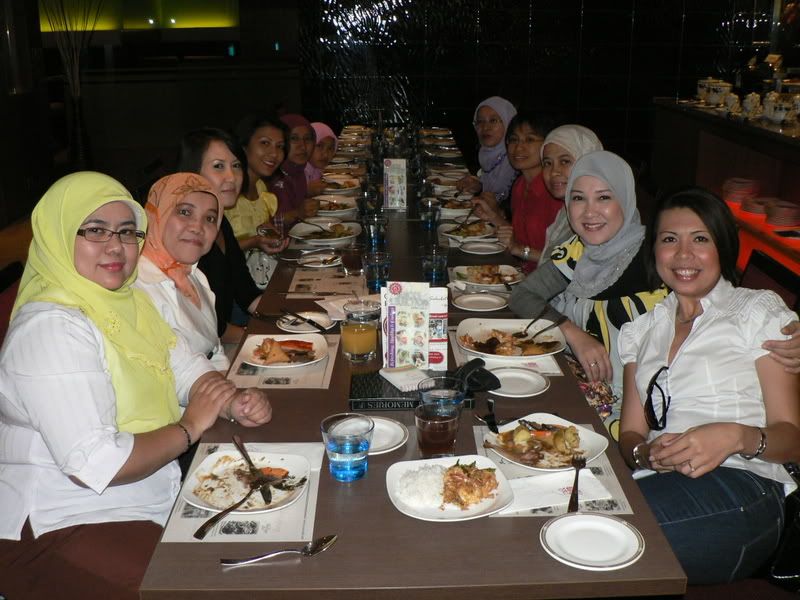 It was great to see each other after 20 years. We hugged each other and become the noisiest crowd there. Most of us did not changed that much...can be recognised easily. We talked about our schooldays..a bunch of naughty students we were. I am sure our teachers will be proud of us..these naughty students are now doing well in life. We were loud until the chef came and greeted us. He was impressed when we said this is our first meet up after 20-23 years. Friends from UK, Kedah, Melaka texted me asking about the reunion and how they misses us.
13 of us came that day. Chom was first to arrive and checked in the hotel. When i reached the lobby, Anealka was already there. Both of us when to the restaurant and waited for the others. Linda, Emi and Faiz make it there minutes after that, followed by Derk, Suzilla, Fizah, Chom and Blur. Derk told us that Zura can't make it because she was sick. Pity her..she really looking forward to attend the reunion. We helped ourselves with the food while waiting for Roy. Another round of hugging when she arrived. One of us called Atiqah, persuaded her to come which she did later. Roha called me from her office wanting to join as her hubby will be a bit late...
Only 13 of us but we were loud especially when it comes to taking pictures...i can't imagine how it would be like if all 98 of us are together.
It was fun...really really fun and i miss my girlfriends already.