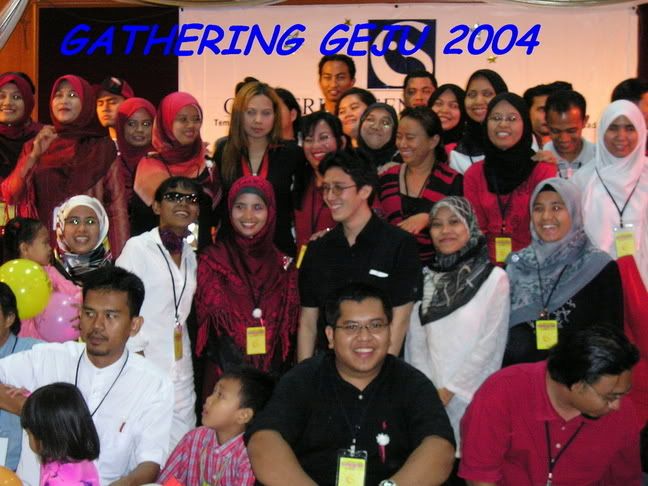 Semalam aku pergi gathering GEJU kat UPM. Naik komuter sampai Serdang pastu ambil teksi gi UPM. Driver teksi itu tak tahu kat mana Dewan Sri Pulasan. Tanya guard kat situ, diarahkan teksi driver tu, pergi bangunan beratap biru. Setibanya kat dewan itu, heran pulak aku sebab macam tak ada event kat situ. Sah-sah aku dah salah tempat. Aku pun berjalan pergi bus stop and tanya student UPM kat mana Dewan Sri Pulasan. Dia orang pun tak tahu. Aku pun called
Langsat
, minta tolong dia ambil kat bus stop. Dalam jangkamasa 5 minit
Langsat
pun sampai menyelamatkan aku dari tersesat. Rupanya Dewan Sri Pulasan tu kat Kolej Keenam UPM. Terima kasih
Dik Langsat
.
Aku duduk kat meja 17 bersama-sama
Petz, Sayangmama, Khalilur, Luqman
dan this adik yang aku tak ingat nama ( sorry yek ). Aku pun dapat jumpa orang yang
selau
selalu aku baca blognyer dan ber'ym' ~
OP, ND, Basrie, Tipah, Tok Rimau, Bluehikari, Fajar, Sultan Muzaffar, Afdzal Afxzal
( sorry yek tersalah eja )
and Najah, Wkdin, Ayeres, Mushroomcute, Kak Nis, Tudung Purple, Dona
and ramai lagi yang tak ingat.
Ada persembahan dari
ND and the team
.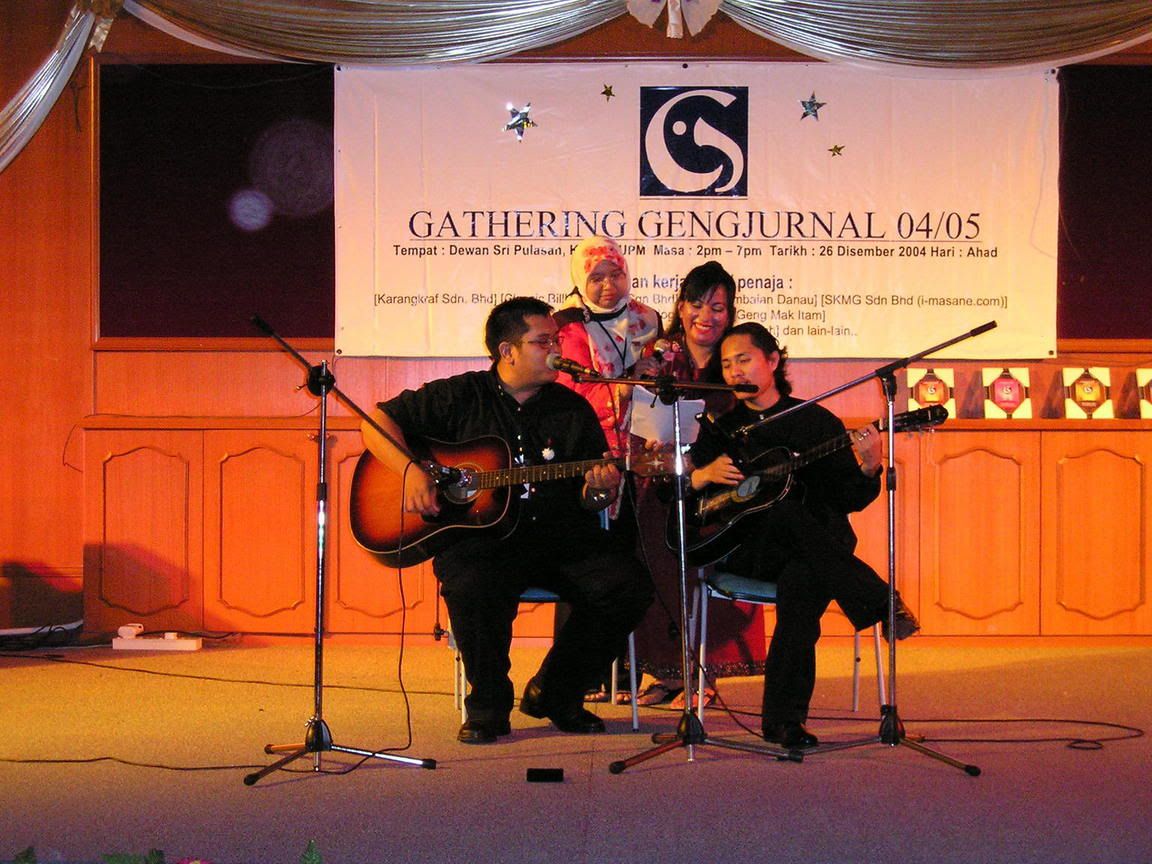 Ini pertama kali aku datang gathering and i would say i am happy to meet orang yang hanya kutemui di alam maya selama ini.
Kepada AJK Gath GEJU 2004 ~
Tahniah. You all did a great job
~
Also kepada semua pemenang Anugerah GEJU ~
Tahniah. Keep up the good work
~
Moga ada lagi pertemuan selepas ini.